Wreck This Journal Bundle Set (Boxed Set)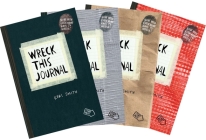 $60.00

Usually Ships in 1-5 Days
Description
---
With this bundle, collect all four unique cover designs of Keri Smith's Wreck This Journal, including the classic black, as well as three special limited edition covers: duct-tape, red mesh, and paper bag.

In these updated editions, Wreck This Journal asks readers to muster up their best mistake and mess-making abilities and to fill the pages of the book (or destroy them). Through a series of creatively and quirkily illustrated prompts, acclaimed artist Keri Smith encourages journalers to engage in "destructive" acts--poking holes through pages, adding photos and defacing them, painting pages with coffee, coloring outside the lines, and more--in order to experience the true creative process. With Smith's unique sensibility, readers are introduced to a new way of art and journal making, discovering novel ways to escape the fear of the blank page and fully engage in the creative process.
About the Author
---
Keri Smith is a bestselling author, illustrator, and thinker. Her books demonstrate a 'learn by doing approach', and are being used in school curriculums all over the world as a way of fostering non-traditional methods of exploration. She also teaches and conducts workshops based on her non-traditional techniques across North America. Her books include: Wreck this Journal, How to Be an Explorer of the World, Mess - A Manual of Accidents and Mistakes, and Finish This Book. She enjoys spending time with her husband, experimental musician Jefferson Pitcher, and two children Tilden and Ida.